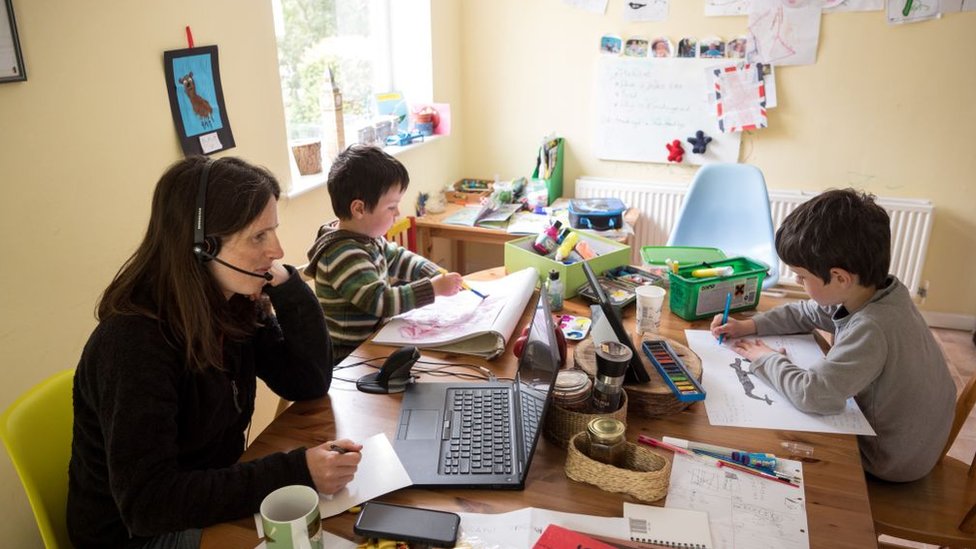 Closing schools will have "grave consequences for children", Wales' education minister has said.
Kirsty Williams said the decision was "really difficult," but education "has a role in supressing the virus".
Some school leaders and opposition politicians have questioned whether a two-week classroom closure would be sufficient.
Ms Williams told BBC Radio Wales Breakfast: "I'm a mother too and I'm dreading the prospect of home-schooling. The vast majority of children want to be in school as home-learning is not as good as being in front of teachers.
"But we have to understand the seriousness of the situation we face and have the confidence of staff that when they are in school, they are safe."
She said there was no evidence the new variant was more transmissible in children than adults.
Will schools in Wales reopen in January?
Schools will only stay closed after 18 January "if that's the only thing we can do to suppress the virus", she added.
"Clearly any decision to close schools for face-to-face contact for the majority of children is a really really difficult decision and it's a decision which has grave consequences for children.
"Education has a role to play in helping suppress the virus and helping our NHS to cope and helping those doctors and nurses and healthcare professionals who are on the front line and struggling so hard to look after us all."
Plaid Cymru called for urgent help for children from disadvantaged backgrounds.
What do teachers and parents think?
Jane Jenkins, head teacher at Moorland Primary School in Splott, Cardiff, said: "We started planning for this before Christmas. It's not really any surprise.
"We learnt a lot of lessons in the first lockdown about the difficulties some children and families had with online learning, so we've been able to tailor our support much better this time around."
Mother-of-two Clare Ferguson-Walker from Tavernspite, Pembrokeshire, said parents were suffering from "exhaustion", but it was the right decision to close schools.
"In terms of how it's going to impact on families, I just think we're all tearing our hair out.
"Trying to get our kids to actually engage with online learning is a massive task… my kids just don't want to do it, I'm the last person they want to listen to."
Balancing work and home-schooling
Chanelle Taylor, a painter and decorator from Caerphilly, said she was worried about balancing schooling with running her business.
She said: "The most worrying concern I have is that with my daughter goes to a Welsh school and we're not Welsh speakers.
"It's made a big impact at home trying to home-school her as well as me trying to find childcare to keep my business afloat.
"At the moment I'm managing with my mum doing childcare, but it's difficult for my mum because my brother has Asperger's so she also cares for him. At the moment I'm limiting my quotations and working as much as I can without bringing more stress home for my mother."
Sara Powell-Davies, who is also from Caerphilly, said she had struggled to get childcare for her four-year-old daughter and other parents she had spoken to had been frustrated by the timing of the announcement.
She said: "You can't do things like this last minute, it's not fair on parents and it's not fair on teachers and schools.
"We've been scrambling around now trying to sort out childcare."
Stephen Reicher, a professor of social psychology at the University of St Andrews and a member of the Independent Sage advisory group, said the focus needed to shift away from keeping schools open to keeping them safe.
"A lot of the talk has been about whether schools should be open or closed. Everyone wants schools to be open. We should also be thinking about the best way of making schools safe so we can reopen them as soon as possible," he said.
He suggested reducing class sizes, hiring more teachers and more spaces and dividing classes.
Plaid Cymru's education spokeswoman Sian Gwenllian said support needed to be made urgently available to children from disadvantaged backgrounds who "will now fall further behind with their education".
She added: "Hubs for vulnerable children and the children of key workers are also a necessity alongside an immunisation programme for all school staff so that schools can become a safer environment upon re-opening."
What is happening in Wales?
Schools and colleges would remain open for children of critical workers and vulnerable learners, as well as for learners who needed to complete essential exams or assessments
Universities in Wales have already agreed a staggered start to term
All childcare settings can remain open
NAHT Cymru, which represents head teachers, welcomed the announcement, saying it had been "inevitable for some time".
Director Laura Doel added: "It is uncertain whether the next two weeks will be enough time to ensure a fully risk-assessed plan is put in place."
The Association of Schools and College Leaders Cymru questioned why it had taken so long for the minister to reach a decision.
But Ms Williams said: "We need to reassess the evidence, which comes through on a daily basis, which makes decision-making really hard. Sometimes, when the data arrives, you simply have to act".
Level five warns of a "material risk of healthcare services being overwhelmed", according to the UK government's website.
What's the situation with Covid in Wales?
There are more Covid patients in hospital beds than ever before – 2,699 on Monday – which included 926 recovering patients too ill to be discharged
There were also 138 patients in critical care with Covid, getting closer to the peak seen during the first wave in April
Case rates have been falling on average in Wales in recent days, although Wrexham and other parts of north east Wales have reached their highest levels yet
Bridgend has the highest case rate in Wales. Its proportion of positive cases – 35.9% – remains the highest in the UK.
Another 17 deaths were reported by Public Health Wales, with the average of deaths running at around 32 a day in the most recent week.
Wales had the highest Covid case rate in the UK before Christmas, and nine of the UK's ten most infected counties.
However, the latest available data shows both England's and Northern Ireland's Covid case rate has risen above Wales.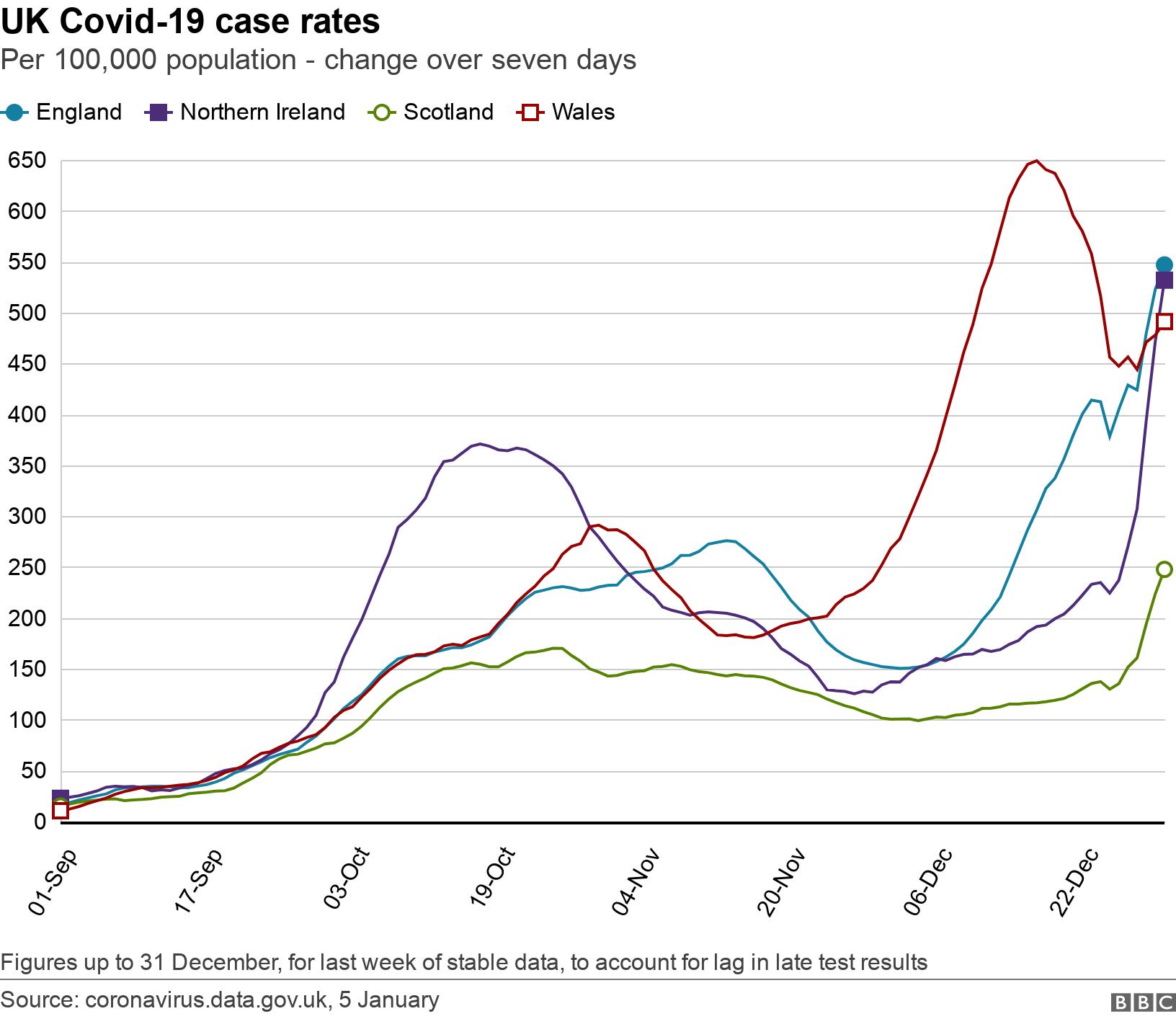 What about the rest of the UK?
Prime Minister Boris Johnson announced a set of new national restrictions for England, with schools and colleges closed until the end of February half term and pupils being taught online.

#Covid #Wales #school #closures #grave #consequences #children

Read More
Share for a better Ghana: